ACTIVITIES - WHAT TO DO IN AND AROUND ADELAIDE




SIGHTSEEING IN THE TOWN

This is a good way to begin a visit.

The town's history is reflected in various historic homes, graceful churches and monuments while the large "square" - actually more of an island - with its trees, gardens and the municipal offices, makes a fine centre piece to the town.

Shady palm trees lining the streets impart a character of its own to Adelaide.

The town museum was the parsonage of the Dutch Reformed Church from 1860 to 1964 and is a fine example of a two storey colonial era house. It is a national monument and has been finished in period style and houses collections of textiles and clothes, glass, porcelain, Wedgwood and silver. There is a bandstand in the garden and various outbuildings.

For a glimpse of the traditions, culture and way of life of the Xhosa people, one can visit the township taverns and shebeens to sample traditional cooking, watch the dancing and perhaps purchase traditional beadwork and arts and crafts at reasonable prices.
---
SPORTS IN THE TOWN
Squash, tennis, bowls and golf are catered for. The nine hole golf course was established in 1892.

---
OUT AND ABOUT IN THE DISTRICT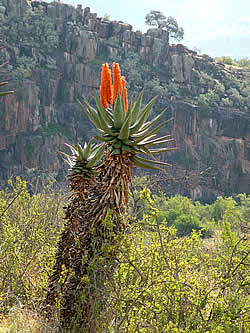 Adelaide lying to the south of the Winterberg Mountains and their associated foothills, there are various spectacular scenic drives to be enjoyed.
Mountain biking is very popular and the Winterberg Mountain Bike Race takes place every year in October.
Rock climbers can do their thing at Fort Fordyce.
There is no shortage of 4x4 trails, cycling routes, game viewing, bass and trout fishing and hiking trails.
The countryside is a naturalist's delight with a rich diversity of flora and fauna and excellent bird watching.
---